ELP - the band
Just announced: The ELP On Tour 1973 movie
is now available in the Coda Collection and on Amazon Prime!!

See the trailer and read the announcement at codacollection.co
---
Accepting Pre-Orders: The official ELP book!

Emerson, Lake & Palmer: the official illustrated story in their own words

Read all about it and sign up for a pre-publication discount at ELPbook.com!
In celebration of Keith Emerson's 76th birthday, The Keith Emerson Estate and Cherry Red Records announce the long-awaited release of The Official Keith Emerson Tribute Concert on March 11, 2021 (the 5th anniversary of Keith's passing).

This official 3-disc set brings you the historical May 2016 tribute show in Los Angeles featuring a once-in-a-lifetime lineup of musical luminaries performing music from Emerson, Lake & Palmer, The Nice, Emerson, Lake & Powell, The Keith Emerson Band and the Three Fates Project.
---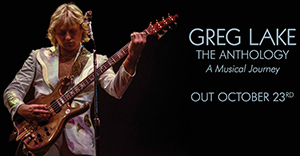 New Greg Lake 'Anthology' available now on Deluxe 2CD, 2LP and Digital.
---
Carl Palmer's ELP Legacy
rescheduled 2020-2021 tour dates!
Tour dates here!

Special thanks to Frank Mastropolo and Rock Cellar for a fantastic feature interview with Carl Palmer. Check it out!
Carl Palmer – from ELP to ELP Legacy, Art, Documentaries, A Book, and More